Champagne
{{ currentPage ? currentPage.title : "" }}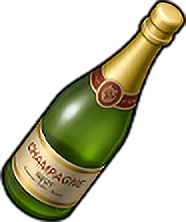 Champagne
Description:
A celebratory drink to restore energy.
Stackable by 20
Can be found in the Snowy Race Track.
ADDED IN BETA V.1.6.12. REMOVED IN BETA V.1.7.2. ADDED AGAIN IN BETA V.1.11. REMOVED IN BETA 1.11.4.
Stats:
Hunger 0
Thirst 30
Health 0
NOTICE THIS ITEM ISN'T IN THE GAME ANYMORE!
{{{ content }}}