Candle
{{ currentPage ? currentPage.title : "" }}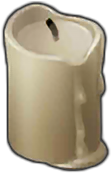 Candle
Descriptoin:
Use them on the ritual bench to decorate the gravestones for the Day of the Day.
Stackable by 20
Can be found in all Red/Green/Orange Zones
ADDED IN BETA V.1.10. REMOVED IN BETA V.1.10.2. ADDED AGAIN IN BETA 1.16.4. REMOVED AFTER SEASON ENDED.
NOTICE: THIS ITEM ISN'T IN THE GAME ANYMORE!
{{{ content }}}